Assesment System – Content PR campaign

International HR providers in 9 countries with 15 years of professional experience, Assessment Systems International provides complex HR services supported with innovative and accurate personality testing and consultancy tools. Their clients include international heavyweights like Telekom Group, RWE, Sanofi, Tesco and Microsoft.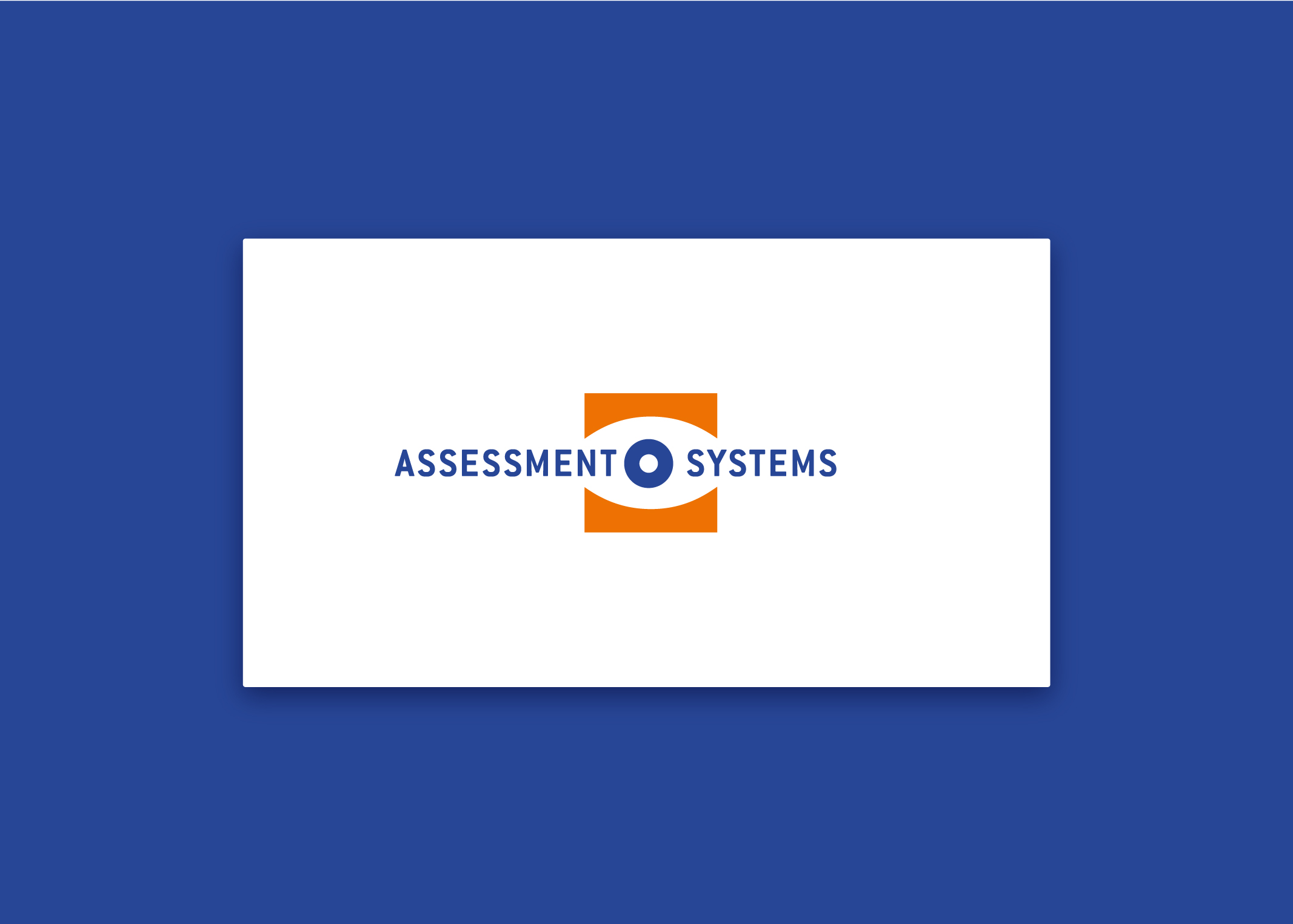 Linking communications  
and business goals
Our primary objective was to bolster Assessment Systems International's professional trend setting position.
The campaign set out to create an HR handbook aimed primarily at leaders and focusing on business issues, reflecting not only the company's expertise, values and assessment attitudes, but also provide a readable and comprehensive industrial information resource on highlighted components of the service portfolio.
For our long term goal we targeted boosting company reputation and providing sales support, through the effective communication of company service innovation and a focused outreach to Hungarian decision makers. MITTE supported the company through developing the booklet's concept and content, writing and editing, relevant image design, and implementing a PR campaign integrating the HR booklet.
Developing the HR booklet
A key component in our integrated strategic communication, this booklet targets corporate management, HR professionals and non-professional practitioners. In developing this booklet for online and offline formats, our main priorities were accessibility, comprehensibility and professionalism.
The international case studies used in our booklet are easily fathomable examples that also direct attention toward the professional presence of Assessment Systems.
Together with AS associates, we organized the current key issues of HR and leadership in three main thematic chapters: selection, development, leadership.
Designing the HR booklet's image and layout
The graphic components used throughout the booklet are fresh design communication tools including infographics, diagrams, color schemes and so on, to harmonize with corporate visual culture.
Inevitably, a simple and straightforward landing page was added to our communications campaign, providing an important PR and communication support tool in line with our publication's visual and structural elements. We not only gave access to our downloadable booklet, but used visual and textual highlighting to give a clear overview of the booklet's key thematics, as well as showcasing the publication's novel content and image.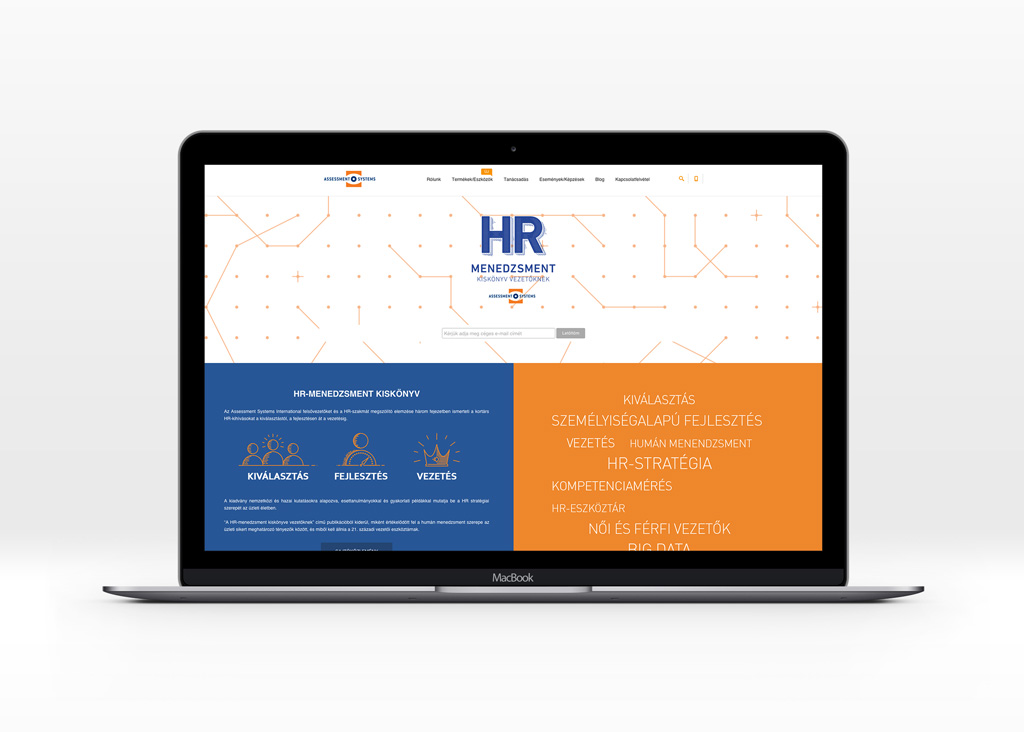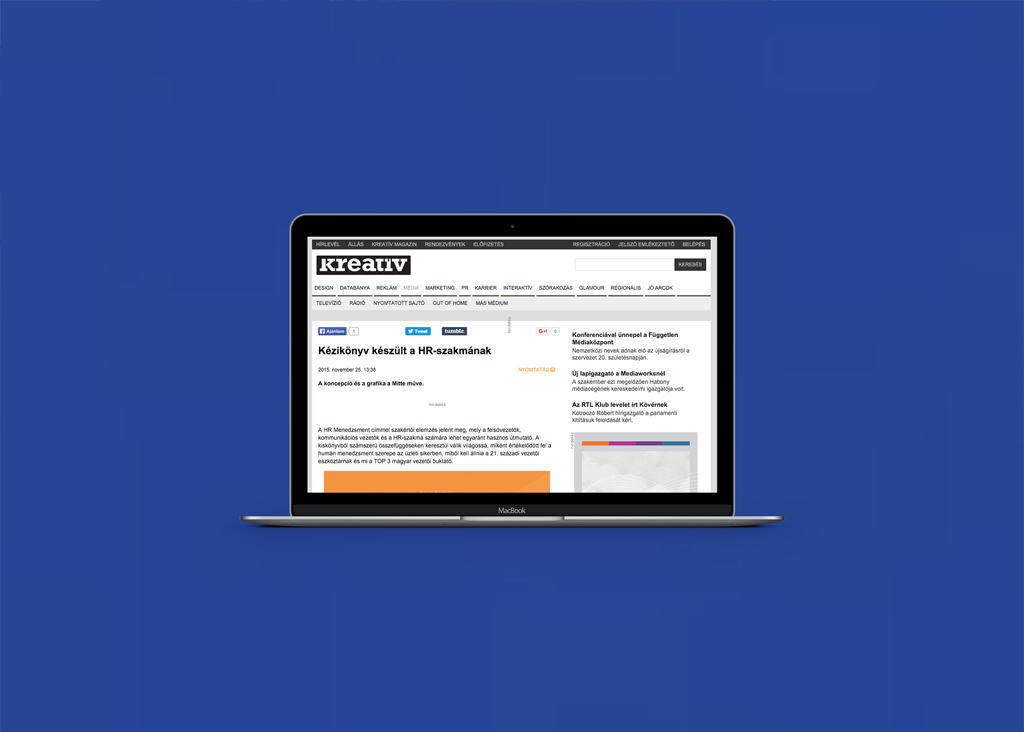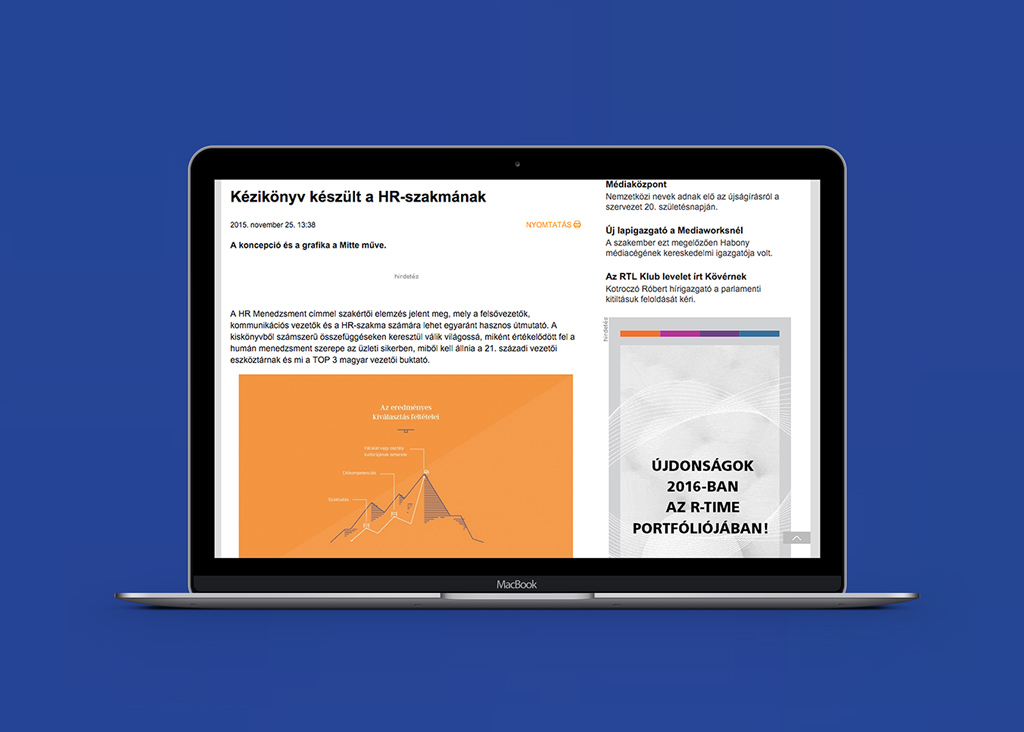 Throughout our PR activities we have worked using several target group oriented thematic promotions. In every case we used field-specifically relevant aspects in presenting our booklet, resulting in highly effective reach not only to HR-specific media but also public, business, IT and lifestyle media channels.
We worked using targeted key messages, and emphasized our booklet's professionalism and unique qualities, positioning it as a useful reference material for readers of various media.
For promotions targeting business media, we highlighted numbers and statistics to demonstrate the relation of HR optimization and increased company competitiveness. For IT and lifestyle media we approached the booklet from current issues such as the different leadership styles of men and women, or what it takes to make a good leader out of an IT professional.
As act two our PR campaign we recommended a trend forecast focused on Big Data. In terms of our integrative perspective, it was vital to establish consistent connection points between the promotion and the booklet. In all our publications we aimed to indirectly link HR-service innovation and Assessment Systems International through international HR trend forecasts.
Positive media impact is best demonstrated by the fact that nearly all our media coverage made headlines, either front page or section highlight for vrious HR, economy, IT and lifestyle media. Our online promotions successfully reached out to Facebook and Linkedin HR professional communities.
Throughout our integrated strategic communication campaign, we have positioned Assessment Systems International toward corporate leaders and HR sector decision makers as a professionally premium quality HR service provider in service innovation. For the duration of the campaign, ¼ of website visits were generated by the HR booklet, reaching 80% first-time visitors through online ads. To follow up the successful reception of our Hungarian booklet, several new translations are being planned for the future.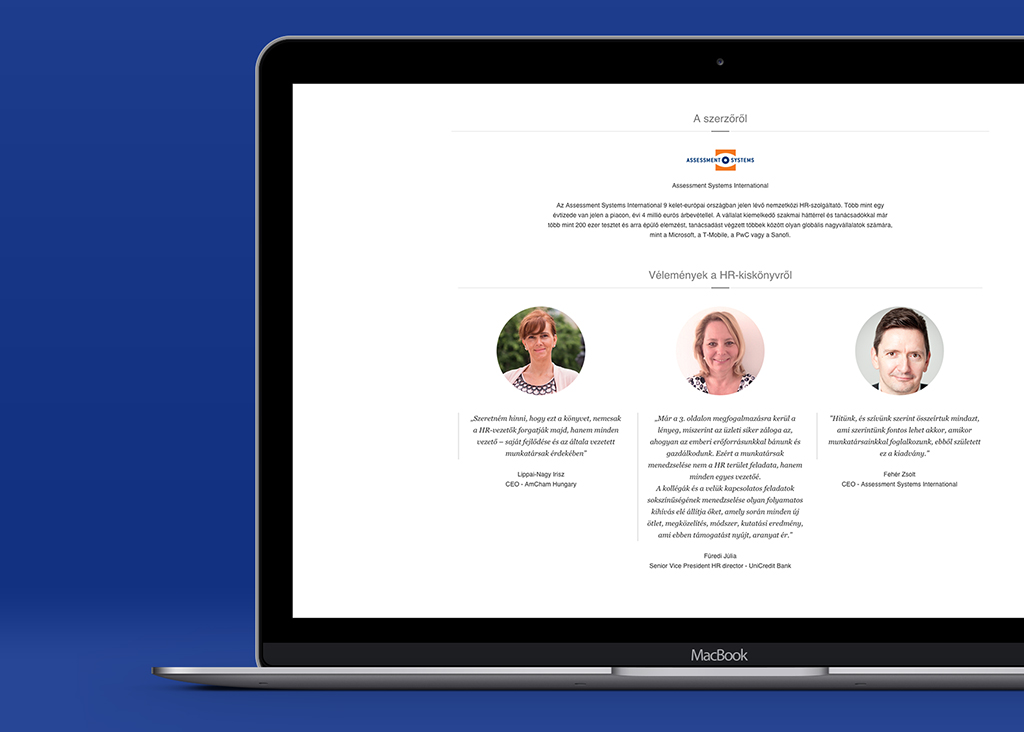 értékben ingyenes PR-megjelenések
médiaszegmensre kiterjedő PR-kampány
HR-szakértő és vezető elérése online hirdetésekkel
hatékonyságú hírlevél kampány